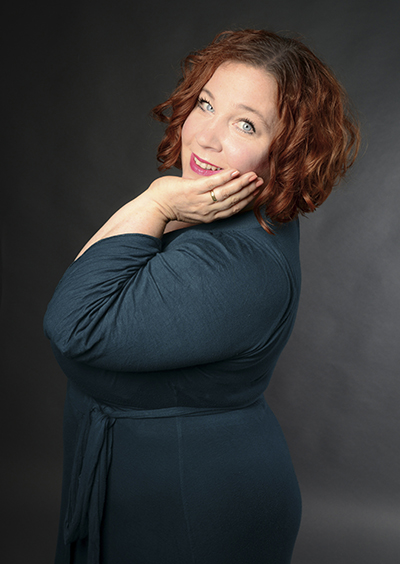 H
elena Köhne studierte am Hamburger Konservatorium und an der Universität der Künste Berlin. Die Sängerin war Stipendiatin der Walter Kaminski Stiftung sowie Preisträgerin des Hanns Eisler Wettbewerbes für Interpretation zeitgenössischer Musik.
An der internationalen Bach Akademie (Ltg. Helmut Rilling) nahm Sie bei Ingeborg Danz ebenso teil wie an szenischen Workshops mit Vera Nemirova an der Akademie der Künste in Berlin.
Eine rege Konzerttätigkeit führte HELENA KÖHNE mit Werken wie dem Weihnachtsoratorium, dem Mozart-Requiem, dem Schumann Requiem, Frank Martins 'In Terra Pax', verschiedenen Passionen in die Berliner Philharmonie, die Musikhalle Hamburg, die Oetkerhalle Bielefeld uvm.
G
astengagements führten die Altistin zuletzt als ALTE BURIJA in Jenufa an die Opéra Dijon und die Opéra Caen , als BIANCA in Rape of Lucretia an die Oper Köln, als ADELAIDE in Arabella an die Oper Kiel, als WESENERS MUTTER in Die Soldaten an die Staatsoper Nürnberg und zu den Maifestspielen Wiesbaden, als AMME in Boris Godunov und ANNINA an das Staatstheater Wiesbaden und die 3. DAME in Die Zauberflöte sang sie in der Inszenierung von Barrie Kosky am Gran Teatre del Liceu, Barcelona.
2012 war Helena Köhne als MUTTER in der Braunfels Oper Die Verkündigung am Pfalztheater Kaiserslautern und als FILIPJEWNA in Eugen Onegin am Theater Görlitz engagiert.
2012 bis 2014 war sie als ADELAIDE in Arabella und MARTHE SCHWERTLEIN in Faust am Nationaltheater Weimar sowie in Mahlers 8. Sinfonie in der Berliner Philharmonie zu erleben. Die ALTE BURYA in Jenůfa verkörperte sie am Theater Görlitz und am Staatstheater Oldenburg war sie als FILIPJEWNA in Eugen Onegin erfolgreich.
2018 sang sie an der Oper Köln die Bianca in Brittens RAPE OF LUCRETIA sowie WESNERS ALTE MUTTER in Zimmermanns SOLDATEN am Staattheater Nürnberg.
2019 kehrte sie als ALTE BURYA an das Pfalztheater Kaiserslautern zurück. 2019/20 ist sie in der zeitgenössischen Oper STRAFEN an der Opéra Dijon zu erleben sowie als FILIPJEVNA am Volkstheater Rostock. Corona bedingt wurde ihr Engagement als ALTE BURIJA an der Vlaamse Opera Antwerpen im Herbst 2020 abgesagt.
2021 macht sie ihr Debut als ERDA in Rheingold und Siegfried sowie SCHWERTLEITE in Die Walküre am Staatstheater Wiesbaden.
Im Januar 2022 Übernimmt sie am Staatstheater Nürnberg die Partie der GENEVIEVE in Pelleas et Melisande.
Name: Helena Köhne-Eker
Stimmfach: Alt / tiefer Mezzo
Telefon: 0172 - 30 41 626
E-Mail: mail@helenakoehne.de
Management: info@mennicken-pr.com